Project update - February 2014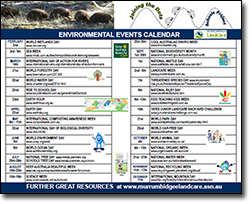 As a resource for schools, our Joining the dots (schools) project coordinator, Toni McLeish, has compiled an environmental celebrations calendar. The calendar lists events over the first six months of the year that provide opportunities to focus classroom attention on environmental issues.
The aim of the calendar is to support teachers by providing information and resources that are both relevant to the curriculum and also to the local environment. On the MLi website we are building up a table of resources, providing links to specific sites about each topic and then drilling down further to identify the specific resources - whether factsheets, videos, puzzles or activity sheets - which are directly useful in the classroom.  One of the issues facing teachers accessing online environmental education resources is the complete information overload. The issue is not that the information isn't there. Often it is a case of there being far too much information and feeling swamped and not knowing where to start.
Our recent survey of schools produced limited response. It did identify that the most common interests and activities are school vegie patches or bush tucker gardens - projects readily sponsored by local councils or Junior Landcare. 'Off-site' activities and excursions are becoming harder to organise. Our goal with the project of developing excursion kits may be reconfigured as we consider virtual excursions as well.
One valuable insight from the survey was teachers expressed keenness to communicate with like minded teachers and participate in combined events. Our project is looking at strategies for networking teachers and parents leading environmental projects so that we can share know-how and not endlessly reinvent the wheel.