The Young Farmer Business Project survey, which was run recently, received 509 responses. For a snapshot of the results, click here.

As part of the initiative, an information hub is being developed to provide business support resources using digital platforms that meet the needs of our younger generation of farmers.

» read more
Landcare NSW, through the support of the NSW Environmental Trust, delivered a series of eight workshops across NSW during the submission phase of the NSW Biodiversity Reforms. In addition, the Office of Environment and Heritage hosted a webinar for landcarers to discuss and ask questions about the proposed reforms. 
 
» read more
SafeWork NSW has developed a Quad Bike Safety Improvement Program, due to commence in late July that will include a $2 million dollar rebate package to encourage and support farmers to adopt a range of harm prevention strategies to protect their workers, family members and themselves. 

Quad bikes are currently a leading cause of death on Australian properties with 220 deaths in the past 16 years with thousands more people seriously injured

» read more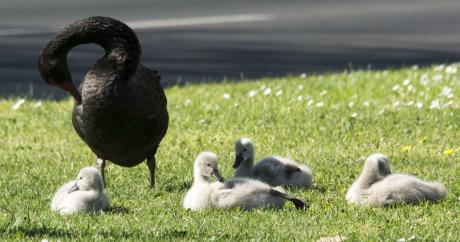 This time last year we had the Bittern Bonanza at Fivebough wetlands with 34 birds recorded on the evening of 20 November. This year with all the winter rain both Fivebough and Lake Coolah, in particular, are again full as they were in March 2012 and the water birds have taken great advantage of the abundance of food in order to breed. This breeding breeding bonanza is also happening at Campbell's and Nericon Swamps and possibly at Tuckerbil as well if access into the swamp was easier.
As Fivebough started to fill in mid-year, the Black Swans were the first to take advantage of the increased water level and, by late July, Keith Hutton had recorded an amazing 71 nests scattered about the wetlands particularly in the northern end where they could be easily seen from Hooey Lookout. The first cygnets started appearing around early August.
Since then and with more persistent rain in August/September, all other birds have been induced to breed in great numbers. This has been particularly noticeable at Fivebough and Lake Coolah where it is relatively easy to see the birds, despite Fivebough being inaccessible still beyond the Information Centre.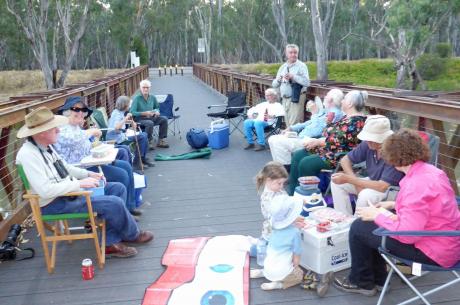 Despite the unbelievably hot conditions, 12 brave members met at the Leeton Post Office at 5pm and headed to Lake Coolah where we were met by 2 more keen participants.
We set ourselves up under the shade of a lone gum tree by the roadside and actually enjoyed the birdwatching. Having 3 scopes helped everyone get good close looks at a pair of Brolgas as well as a good assortment of ducks and other waterbirds feeding close-by in the rapidly receding water of the northern section of the lake. Lots of egrets and herons were easy to identify and there were even some Sharp-tailed Sandpipers and Spotted Crakes to be seen. In all at least 25 species were seen by most of the group before we packed up our gear and headed for Rocky Waterholes.
We arrived there about 6.30pm by which time the sun was quite low and the area was in total shade which made things more comfortable for us. The majority of the group crossed "Terry's" bridge and walked along the channel bank where they found 3 Koalas and an assortment of birds to make it all worthwhile. Just at the end of the bridge, in a small hollow in a red gum, a pair of White-breasted Woodswallows were feeding two fully fledged chicks which was a delight to see.

Kerri Keely of Murrumbidgee Landcare organised the successful Event at Fivebough Wetlands, which is designated a Ramsar listed wetland, to mark World Wetlands Day (held on February 2nd each year).  A lot of people turned up, perhaps lured by the smell of a BBQ breakfast in the carpark at Fivebough. 
After breakfast the group headed to Budyaan Baamirra Centre to hear from 3 speakers.  Keith Hutton spoke about the birds of Fivebough.  Keith has been undertaking surveys there since 1981.  He spoke about the range and number of birds observed at Fivebough and the migratory species that visit Fivebough Wetlands.
Geoff Sainty, a wetland plant specialist, is from Griffith.  Geoff gave a historical view of Fivebough.  He said that originally the area was covered in Black Box trees.  These were cleared in the early days of Leeton's settlement for use as firewood.  He spoke of his concerns that all the drugs and other chemicals people use end up in the sewage which is then pumped through the sewage treatment works and eventually into Fivebough.  Geoff spoke of his interest in algae and cyanobacteria and other organisms that live in the water.  Geoff had several copies of two books which he gave away to people who were at the Event.  They are "Waterplants in Australia which he co-authored, and another, "Freshwater Algae in Australia which his organisation published. 
A group of dedicated MFN members gathered at the Fivebough Wetlands Carpark on Sunday afternoon.  Hanging on to our hats against the strong wind and watching the clouds for rain, we headed off along the walking track towards Brolga Shelter to the Brolga Junction.  The weather contrasted with the day before which was fine and warm with clear skies, when a couple of us had come to Fivebough on a reconnaissance visit. 
We stopped and looked at the birds in the water through breaks in the cumbungi as we wandered along the paths.  The scope was put to good use to help identify the distant birds.  As we continued to the Australasian Bittern Shelter and to the Freckled Duck Shelter, we noticed a number of dead birds along the path.  These included cormorants, purple swamp hens and a duck.  A couple of dead turtles and a live turtle were also seen.  A lot of juvenile birds were spotted and a comment was made that this made identification difficult, for example the Grebes.  There were several groups of Magpie Geese flying over (estimate at least 50).  Juvenile Nankeen Night Herons were seen around the track junction.  A large group of Pelicans and many Great Cormorants were also observed.  Royal and Yellow-billed Spoonbills were also present.  A large number (about 100) Freckled Ducks were also seen. The attached bird list is a record of birds identified by MFN members during the walk.

In this issue:
Into the Red Gums:  Murrumbidgee Valley National Park
Koala Count at Narrandera
'Yarrabimbi's' Conservation Trust Covenant
Easter at Wandown Flora and Fauna Reserve
200th Anniversary of Exploring our Country - Part 2
And much more
» read more
Plans are currently underway to develop this unique, inspiring, and interactive celebration, showcasing all facets of our majestic Red Gums.  It's an exciting and ambitious project, underpinned by a widely shared love for the environs which provide so many of us with our 'sense of home'.
» read more
Pages